Woman reveals the 'right way' to reheat food in the microwave: 'hack you wish you'd known sooner'

​ Have you ever taken out food that has been reheated in the microwave and discovered that some parts of it are hot enough while others are still frozen? That's because you've been using the microwave wrong!

A Tiktok video has gone viral after a foodie revealed the 'right way' to reheat food in a microwave - and it might surprise you.

The woman, with Tiktok handle Tanya Home Inspo, shocked thousands after sharing the 'mind-blowing' clip.

Tanya, an NHS employee, claims that putting food on the edge of the glass microwave plate rather than in the centre is the most efficient way to use the microwave.

In the video, she places a container of food on the rotating plate's edge before turning on the appliance.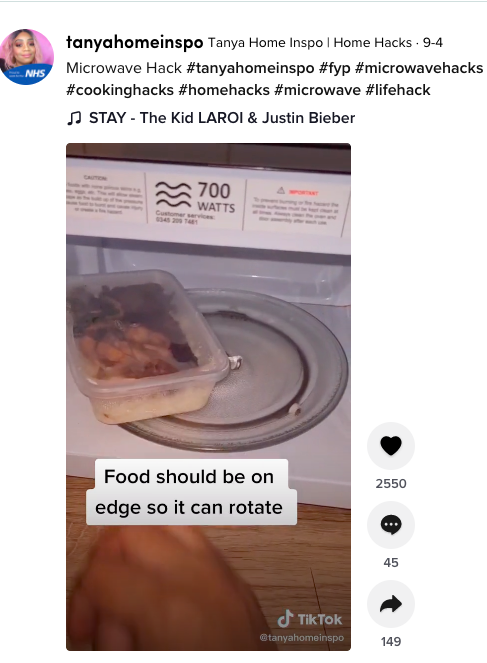 "You know when you reheat food, and some parts of it are hot enough to burn your mouth, and a part of it is still frozen?' she said in the video.

"Well, that happens because you shouldn't actually have your food in the middle of the plate. It should be on the edge so it can actually rotate around and cook evenly."

Tanya says she learned the hack from another Toktok video and dubbed it the 'hack you wish you'd known sooner.'

The viral video has since been viewed over 85,000 times, with commenters saying they were mind-blown.

'Whaaat? Omg, thanks,' one person wrote

'Thing I didn't know that I needed to know.' another wrote.





While many people were impressed by the hack, others quickly pointed out a flaw in the theory and questioned what to do if you have a large plate of food rather than a small container.
What do you think of this hack? Have you tried this? Do you have a hack of your own when reheating food? Share them in the comment section below.
Last edited by a moderator: