Expert disapproves of the trending melamine sponge shoe cleaning hack – here's what he suggests you should do instead​
Another viral cleaning hack has proven that not everything you learn on the internet is true (who'd have thought!). After TikTok user @loltararae was bombarded with questions about how she kept her shoes gleaming, she revealed that she simply pops them in her laundry, throws in a bunch of melamine sponges (also known as 'Magic Erasers'), and finally adds a laundry pod to complete her concoction.
The result? Pristine white sneakers with no bleach required. Because the hack was so impressive, the video amassed over 3.6 million views and a thousand comments from users who were left in utter amazement.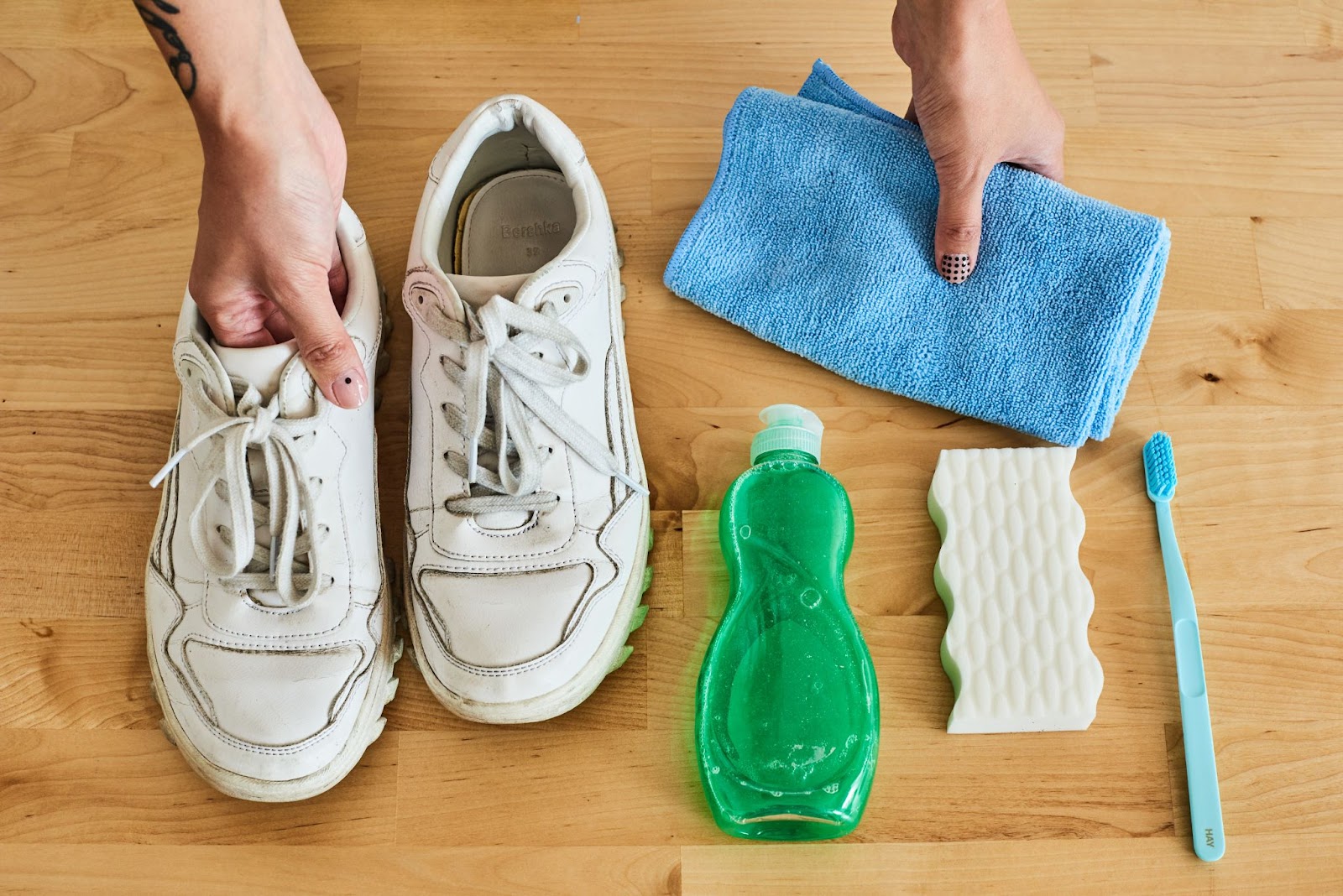 Not all cleaning hacks are equal. Image Credit: Apartment Therapy
​
"WHAT!!!!!! I wash my shoes in the laundry too but have never heard of this. Wow, amazing. Thanks!" wrote one person.
"I clean my daughter's shoes with melamine sponges too and they look brand new every time!" said another.
"Thank you for this! I've been trying to find a way to clean my white shoes for nursing school without bleach or having to scrub them by hand." commented one more.
​
However, laundry expert Zachary Pozniak
debunked the cleaning tip
and warned users not to follow in the TikToker's footsteps. He explained that adding melamine sponges to a washing machine cycle may end up damaging the appliance.
"Melamine sponges are basically sandpaper... That scraping can create grooves in your washer that promote mould growth and can deteriorate your plumbing," he said in his own TikTok video.
Video Credit: @loltararae
​
Instead of dropping 'Magic Sponges' in the washing machine to clean your shoes, the laundry expert recommended a safer cleaning trick that guarantees you won't end up ruining the costly appliance.
"Scrub down [your shoes] with your favourite stain spray and let it sit overnight – this part is important," he detailed.
"Wash as normal and then touch up on the soles with the melamine sponge. They are useful, but they are rough – just remember that,"
Zachary also advised his followers to opt for using generic melamine sponges rather than paying extra for branded ones such as Mr Clean as "they are the same".
The cleaning tip was a hit among users who have potentially dodged a bullet. They also raised plenty of follow-up questions about cleaning their shoes in the washing machine.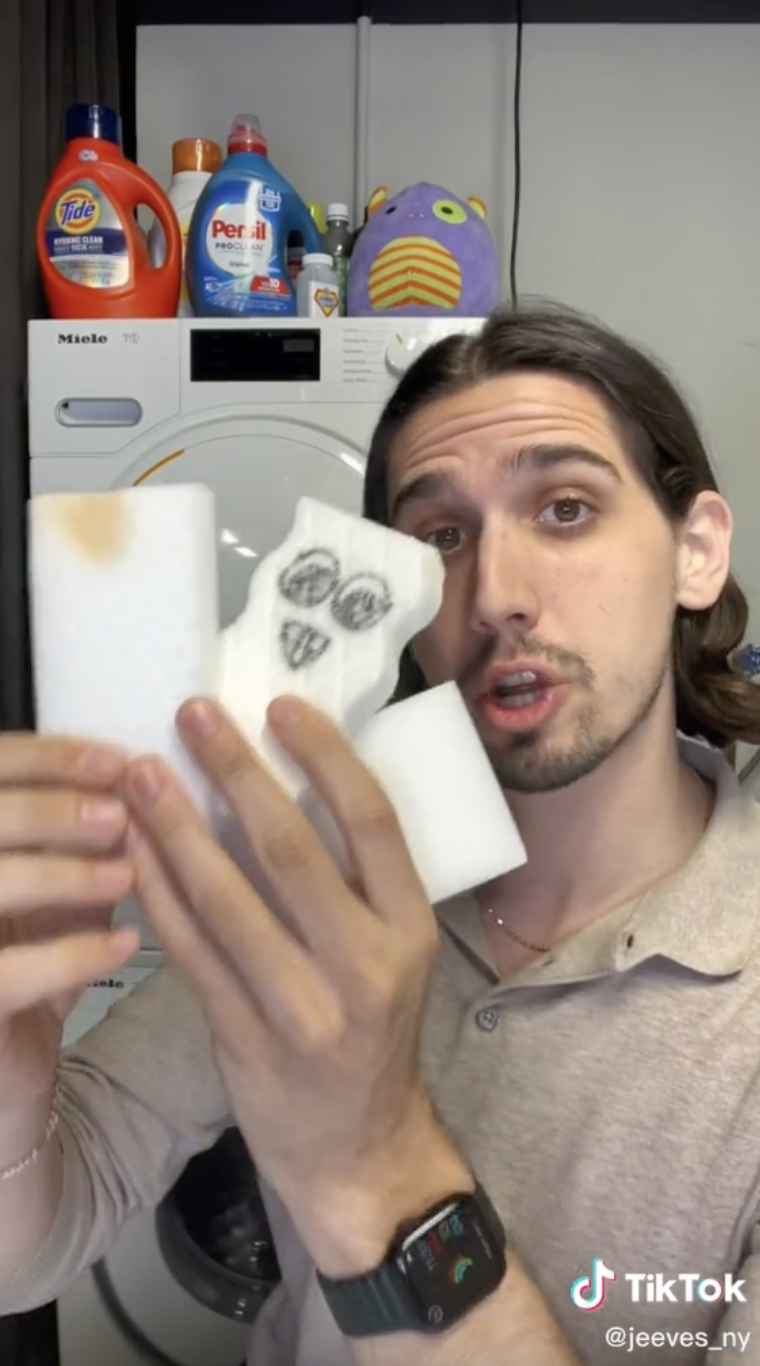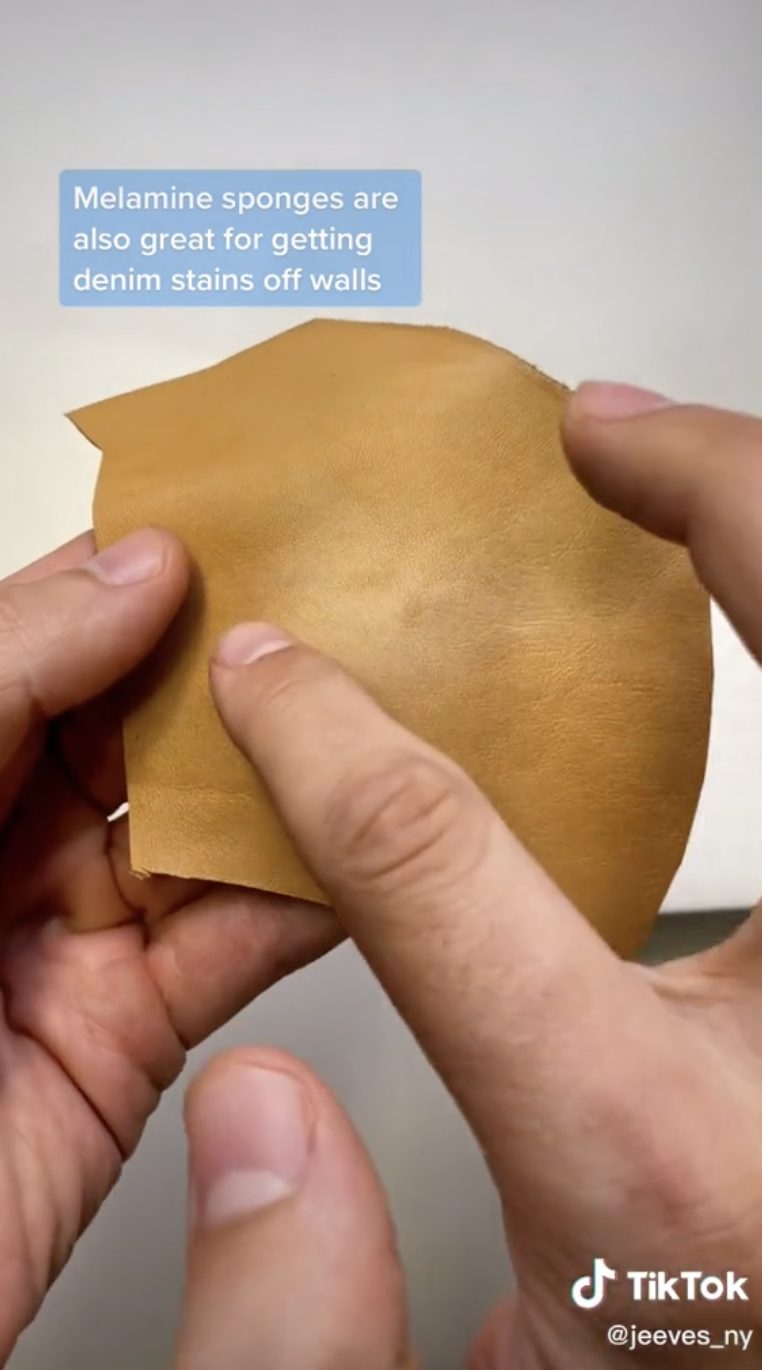 The laundry expert disapproved of the viral hack. Image Credit: @jeeves_ny
​
"Informative video! Does this work for non-white shoes as well?" one person asked, to which Zachary responded: "Yes, for sure."
Another was keen to know the best way to dry shoes after they've been in the washing machine and Zachary said: "Air dry! DON'T TUMBLE. Great question."
"I feel like drying in the sun helps them get whiter after washing," a third wrote.
"It does!!! UV light and oxygen bleaches work well together." the laundry expert confirmed.
If you're not a fan of cleaning your shoes in the washing machine, Nike shared a nifty guide on their
website
.
The popular shoe brand recommends dry brushing your shoes first to get rid of loose dirt. Then, create your own cleaning solution by combining a few drops of laundry detergent or dish soap with warm water.
Proceed by handwashing the shoelaces with the cleaning solution and an old toothbrush or a washcloth. After scrubbing your footwear thoroughly, you can also speed up the drying process by using a microfibre cloth (or a similar fabric) to blot your shoes and soak up the excess water.
Last but not least, leave them to air dry. Nike mentioned that it could take up to eight hours for the shoes to dry completely before use.
How do you keep your shoes sparkling clean? Share your own cleaning hacks with us in the comments!
Watch Zachary's full TikTok video below:
Video Credit: @jeeves_ny
​