Coles launches new collectible campaign – and it's guaranteed to leave you spellbound!​
After Woolworths' recent move to offer
new children's collectibles
honouring the Disney, Pixar, Marvel, and Star Wars franchises, another major Australian supermarket is following suit and is intent on bringing magic to their stores.
Prepare to be spellbound as Coles is looking to bring Harry Potter fans back into the Wizarding World with its
new Magical Builders collectibles
, which will be available in Coles supermarkets and Coles Express on July 6.
Nearly a year after pledging to stop handing out plastic toys at the register, Coles has partnered with Warner Bros to produce collectibles featuring Harry Potter, Hermione Granger, and Ron Weasley that are made of 100% FSC® certified cardboard and are also recyclable in household recycling bins.
With four recyclable plastic-free play kits featuring famous locations that fans will instantly recognise from the Harry Potter movies – such as the Hogwarts castle, Quidditch field, and Hogwarts Express – wizards and witches of all ages can enjoy exploring their own magical world.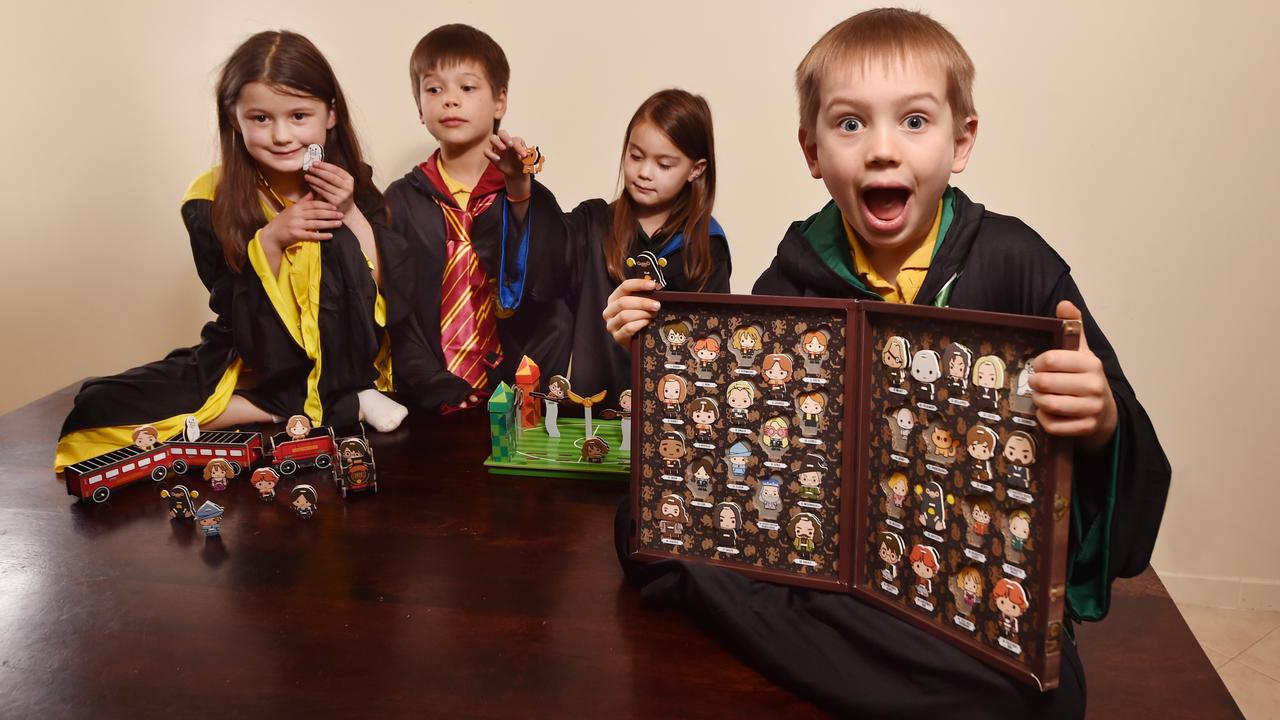 Coles is bringing Harry Potter fans back to the Wizarding World with new collectibles on July 6. Credit: Nicki Connolly.
​
Lisa Ronson, chief marketing officer at Coles, said the grocery store chain was looking for a fun, eco-friendly, and interactive way to engage with customers of all ages.
"We know that Australian fans have been waiting for a Wizarding World collectable campaign like this for a long time, so we are very excited to work with Warner Bros. to bring Coles Magical Builders to life," she said.
Damian Paull, CEO of the Forest Stewardship Council (FSC), said: "Together, we bring about positive change by offering forest-friendly alternatives to plastics. The Magical Builders range is made with responsibly sourced FSC®-certified materials, helping to protect our forests for future generations."
At Coles supermarkets, Coles Online, and Coles Express, customers who spend $30 in a single transaction will receive a free "Magical Builder" character.
Harry Potter fans can let their creativity run wild by constructing their very own Quidditch pitch and Hogwarts castle, as well as a Platform 9 ¾ and Hogwarts Express.
Dedicated collectors can also buy a Hogwarts trunk collector case, which is recyclable once the velcro closing strip is removed, to hold all 35 characters.
The film 'Fantastic Beasts: The Secrets of Dumbledore' and the stage play 'Harry Potter and the Cursed Child', which is currently being performed in Melbourne once again, have brought the Harry Potter series back into the spotlight here in Australia.
Wands up, everyone, and we'll see you later at Coles!
If you're thinking about going to the show, here's a sneak peek inside Melbourne's Princess Theatre for an exclusive look at the smash-hit production of Harry Potter and the Cursed Child.
Credit: Visit Melbourne.
​