The 10 Iconic Fashion Moments That Made Us Love Princess Diana​
​
The 10 Iconic Fashion Moments That Made Us Love Princess Diana​

Princess Diana left the world with many incredible gifts, including a lifetime of activism, humanitarian work, and compassion. But there's something else she left behind that has kept us loving her to this day, a legacy the world has never seen before: her sense of fashion.

With her penchant for tailored designs with sharp angles, bold and often contrasting colours of prints, to unexpected shapes, the people's princess made her mark on the fashion industry, embracing modern styles in ways royal ladies had never done before. Lady Di's looks are so well-known that they have their own names and stories. In fact, they are some of the most talked-about outfits of all time.

Millions of people who remember her have incorporated fashion lessons from her wardrobe into their daily lives, and Princess Diana's fashion influence lives on through these tributes and homages.

From the iconic revenge gown, the Travolta gown, to the drama-filled puff-sleeved wedding gown, let's take a look at the 10 iconic fashion moments that made us love Princess Diana.

​
Sheer skirt and feminine blouse (September 1980)

​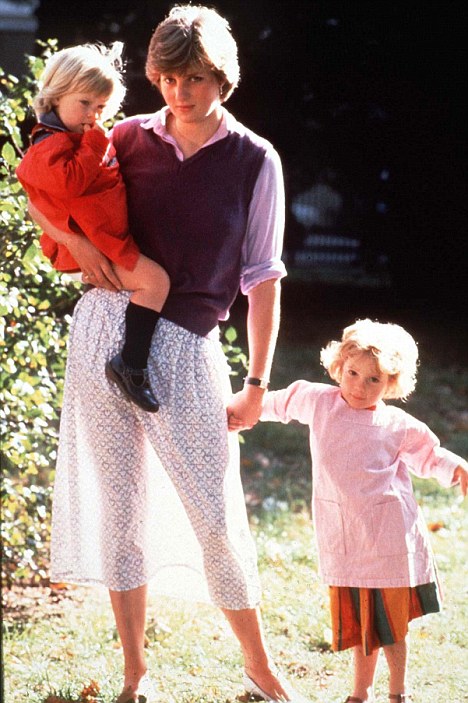 Credits: Anwar Hussein/Getty Images
​

Although Princess Diana rose to become a fashion icon, she captured the world's heart as a shy and blushing nursery school teacher. Diana, 19, is seen with children from the nursery school where she worked, wearing a sheer skirt and a purple sweater vest. The lovely Princess matched her style to her innocence, wearing shirts and feminine blouses. She also sported an initial necklace around her neck.
​
Blue and white ensemble (February 1981)

​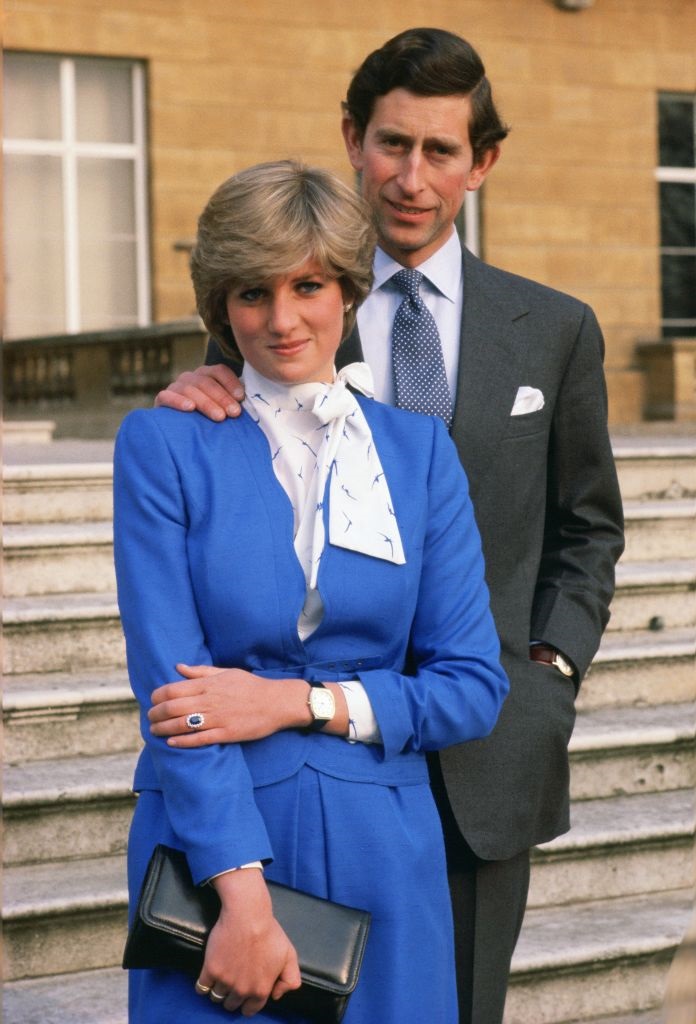 Credits: Getty Images
​

The infamous blue and white ensemble she wore with Prince Charles in the gardens of Buckingham Palace as they announced their engagement to the public was power dressing at its finest, complete with a neckerchief. But, believe it or not, the ensemble was obtained at the last minute from Harrods' rails.

Diana had gone to high-end Bellville Sassoon, but the French sales assistant didn't recognise her and suggested she go to a more budget-friendly department store. Fortunately, Diana was warmly welcomed back into the boutique after David Sassoon himself discovered the blunder. Their relationship flourished from there; the designer was one of the defining names behind the Diana style we all know and love.


Embroidered sweater with wellies (May 1981)

​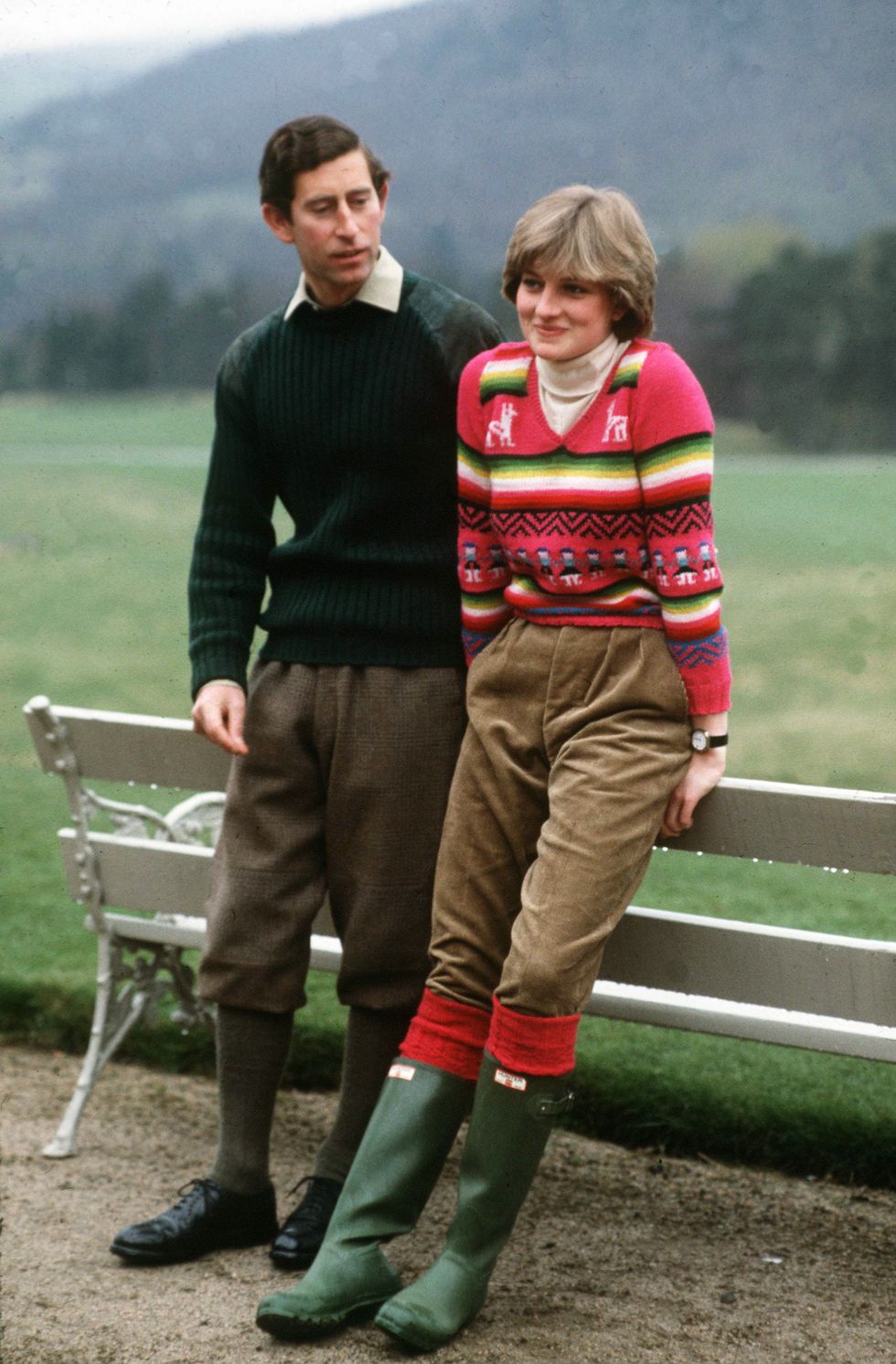 Credits: Getty Images
​

When Diana visited Balmoral Castle in Scotland with her then-fiancé, Prince Charles, she wore a pink embroidered sweater with corduroy trousers and a pair of green Hunter rain boots, proving that bad weather shouldn't keep you from looking your best. This outfit she wore before her wedding inspired women worldwide to pull out their rain boots. Princess Diana is the royal known to wear Hunter wellies, which is also a fashion staple for Queen Elizabeth.
​
The Wedding Dress (July 1981)

​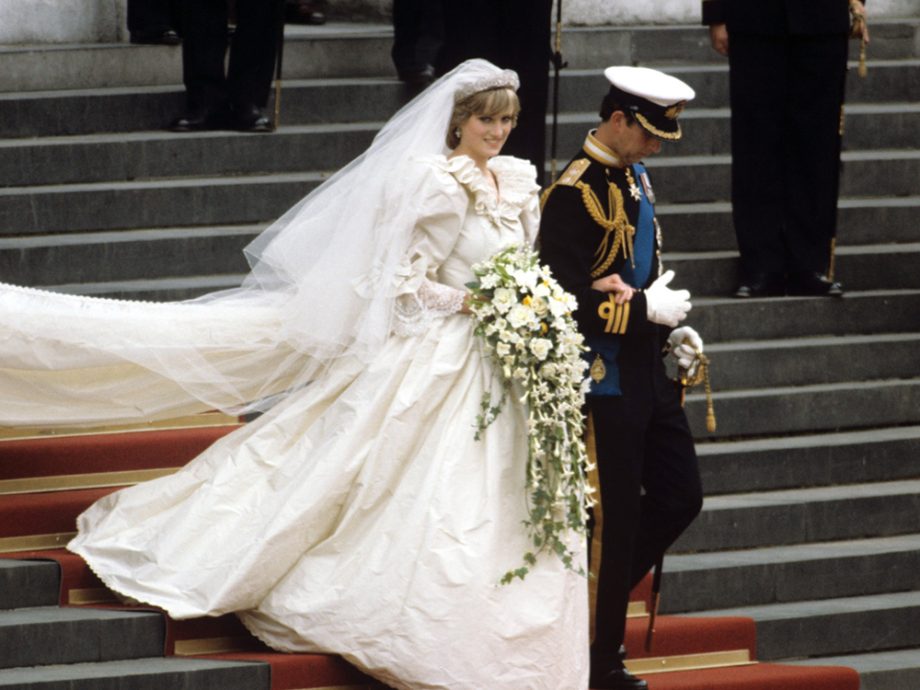 Credits: marieclaire.co.uk
​


Who can forget her iconic wedding dress in all its 1980s glory as she walked down the aisle of St. Paul's Cathedral to marry Prince Charles? It was a custom design by David and Elizabeth Emmanuel, which she paired with her own family Spencer tiara. This 25-foot-long train adorned with Queen Mary's lace was made of silk and taffeta with hand-sewn mother-of-pearl sequins with roughly 10,000 pearls. This iconic dress made Diana a fairytale princess and the overblown, romantic, and flouncy effect dominated bridal styles in the years that followed.
​
Pink sweater and plaid capris (July 1986)

​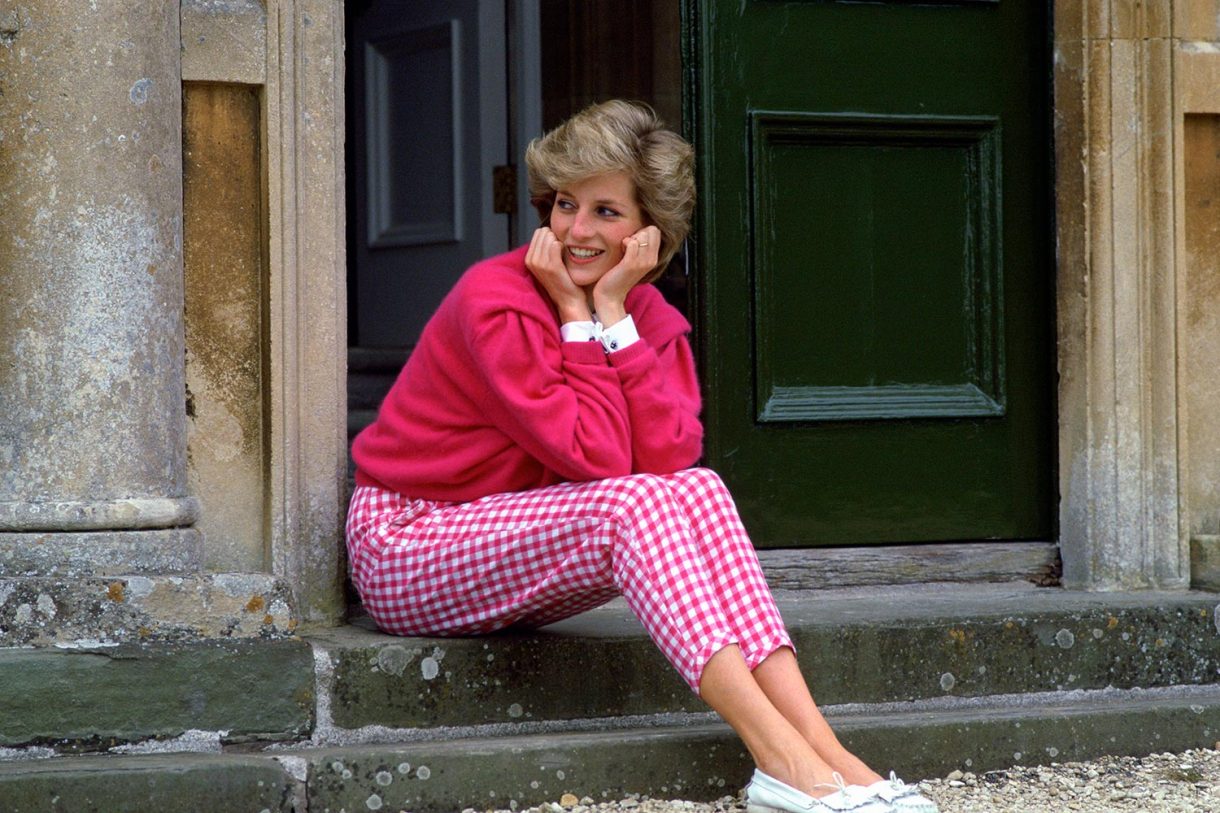 Credits: Getty Images
​

If Princess Diana were still alive today, she'd be at the top of best-dressed lists all over the world. Take a look at this photo of her sitting on the steps outside her country home of Highgrove. Diana's style was defined by some pretty casual outfits, and this hot pink sweater paired with coordinating plaid capris is no exception.
​
Turquoise evening dress (October 1985)

​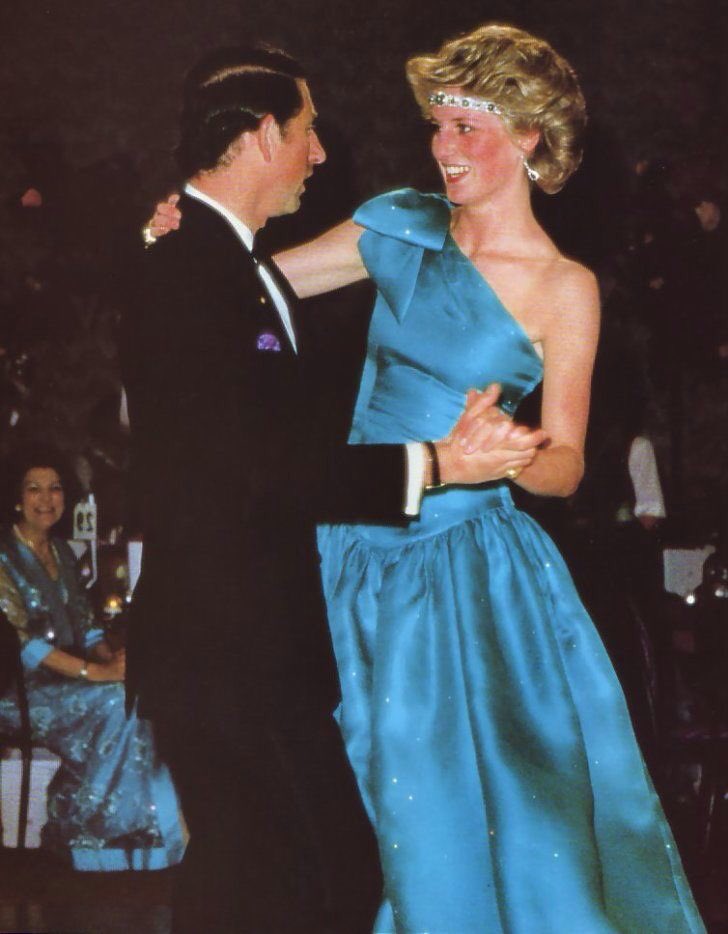 Credits: Twitter
​

This is one of the most memorable images of Lady Di and Charles during their happier years together. This was during the couple's dancing tours of Australia. She attended the Southern Cross dinner dance in Melbourne wearing a deep turquoise silk asymmetric evening gown designed by Bruce Oldfield, with a large bow detail on one shoulder. She also debuted a new and creative way of wearing her jewellery. She wore the diamond and emerald necklace given to her by Queen Elizabeth II on a velvet band in the middle of her forehead. It sent shockwaves through the fashion industry, and the Princess was dubbed "Dynasty Di" in reference to Joan Collins' outrageous fashions in the TV show Dynasty.
​
Travolta dress (November 1985)

​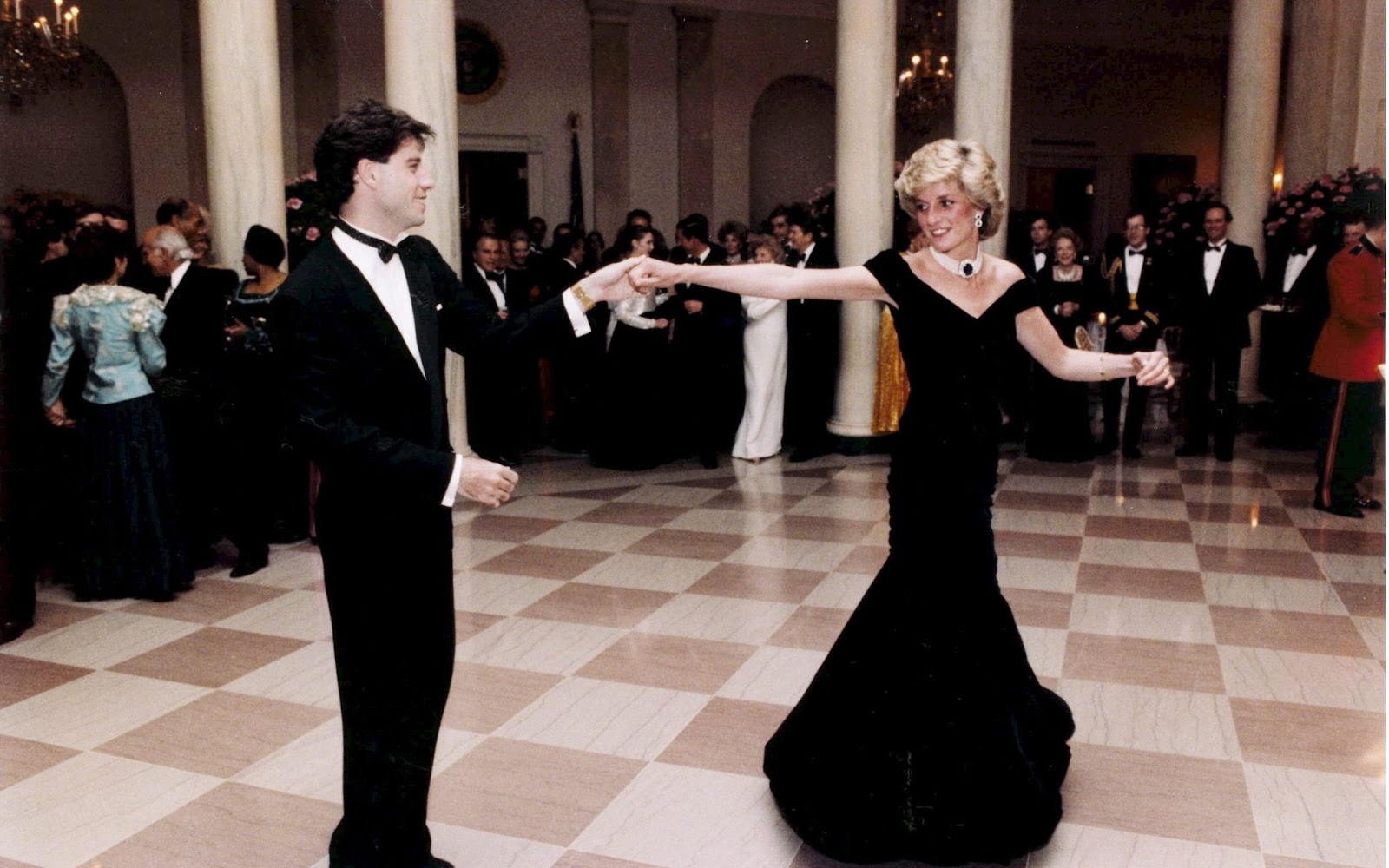 Credits: REX via Shutterstock
​

This is yet another iconic moment in which Princess Diana captured the hearts of the world. She showed off her sense of humour by dancing with a young John Travolta at a White House dinner hosted by US President Ronald Reagan. In a clip from the documentary In Their Own Words: Diana, Princess of Wales, Travolta revealed that First Lady Nancy Reagan told him it was the royal's fantasy to dance with him, and when asked if he wanted to dance with her tonight, he said, "Well, of course."

The off-the-shoulder gown by Victor Edelstein was auctioned off for £240,000 following her death.

​
The revenge dress (November 20, 1994)

​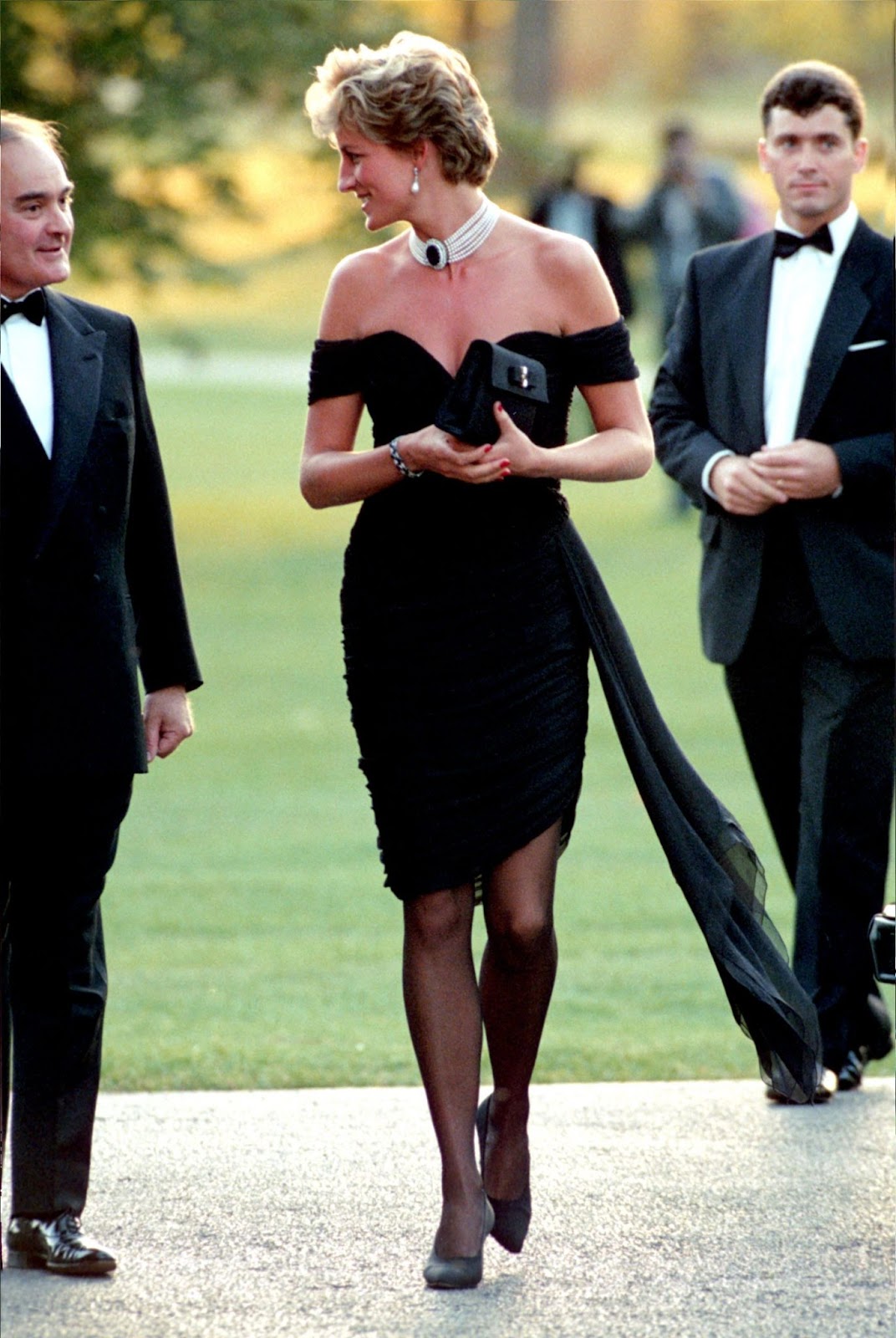 Credits: Shutterstock
​

They say revenge is a dish best served cold, and this was proven true by Princess Diana as she strutted in this little black Christina Stambolian frock she wore to a Vanity Fair party on June 29, 1994, following her estranged husband's shocking confession of adultery in a tell-all interview the same night. Her outfit was so strikingly classy that it became known as her "revenge dress."
​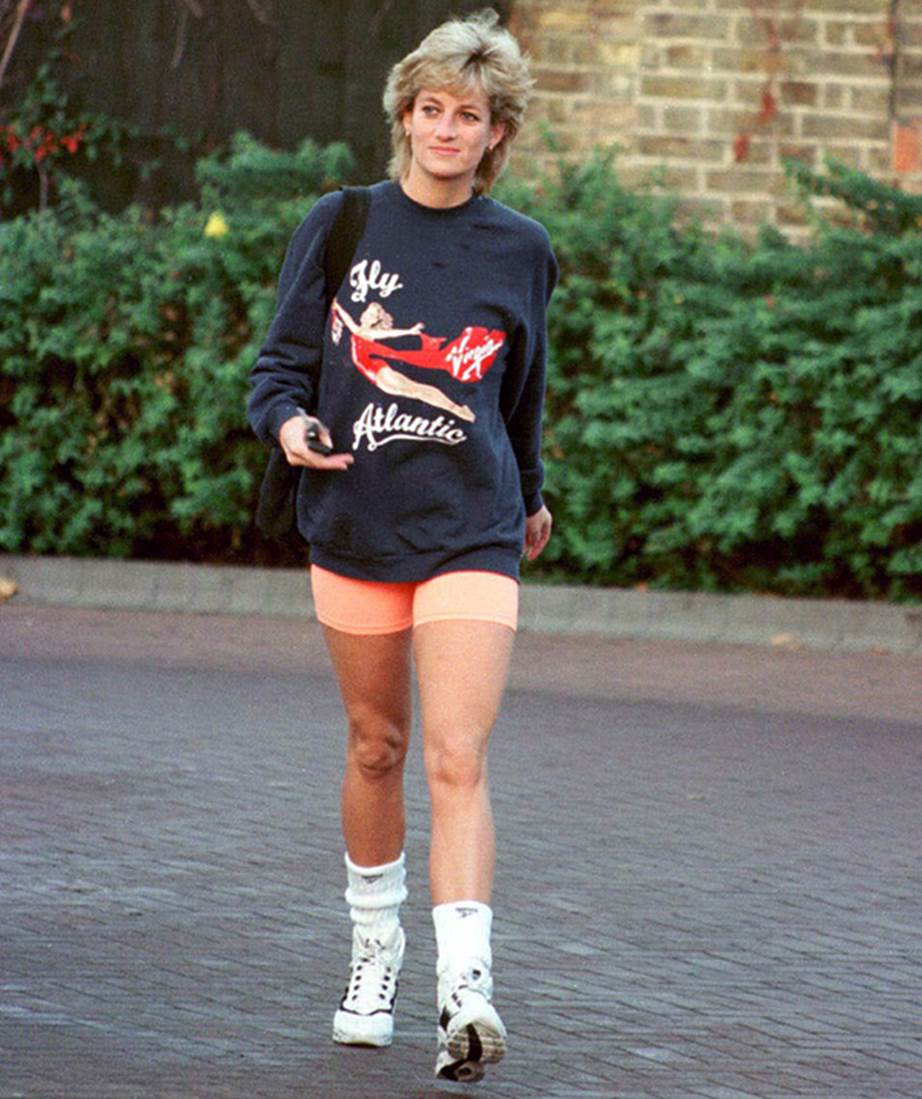 Credits: Getty Images
​


While Diana's gowns were iconic, she also knew how to serve up a sporty chic street style moment, as evidenced by her Virgin Atlantic sweatshirt and neon orange bike short combo in London in 1995. Diana wore the look on numerous occasions, most notably on her way to or from the gym. This outfit is so well-known that it has been re-created by top models and celebrities in recent years. Diana's trainer once claimed that the princess kept re-wearing the crewneck to reduce the value of paparazzi photos.​
Angola landmine walk outfit (1997)

​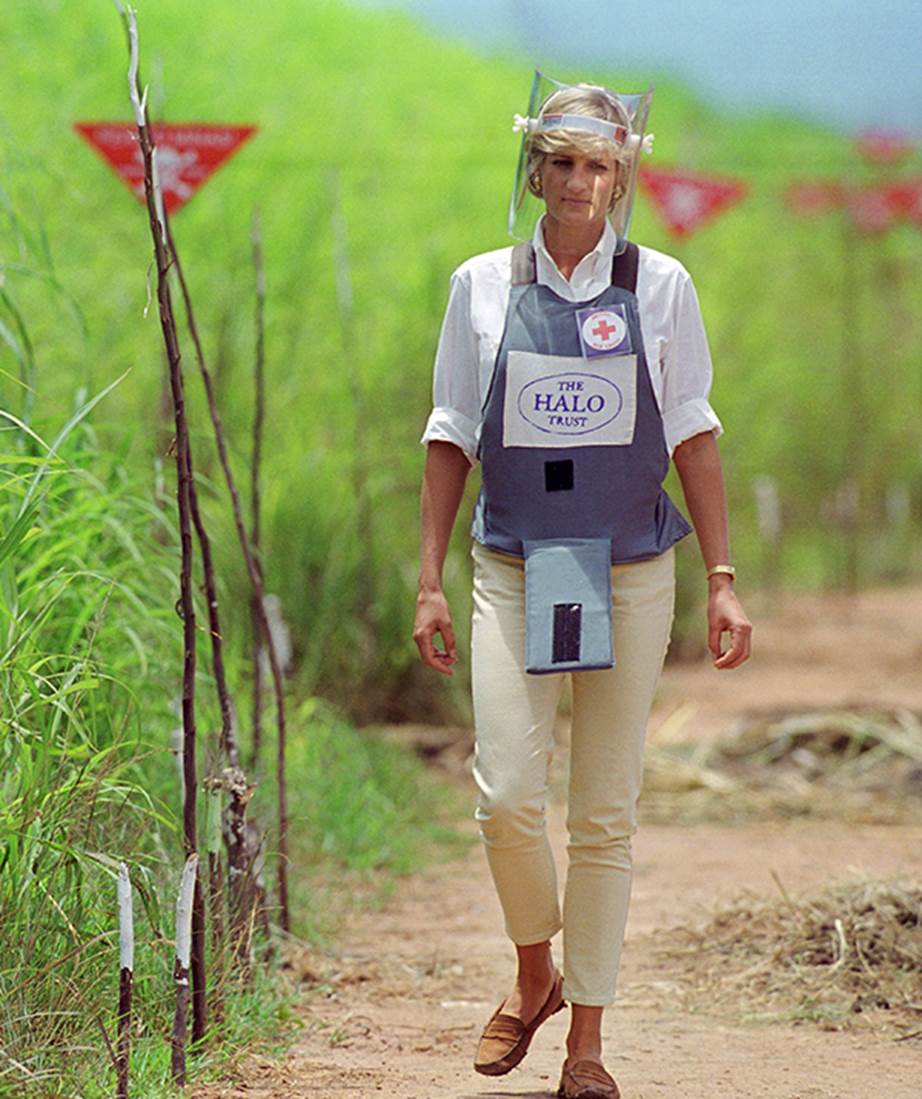 Credits: Anwar Hussein Collection/Getty Images
​

One of Princess Diana's most famous outfits was not a lavish, colourful, one-of-a-kind gown. It was just a simple shirt, jacket, and chino pants. And it's what she wore on her famous visit to Angola's minefields in 1997, just months before her tragic death. Despite the gravity of the situation, the Princess looked stunning in a simple yet chic white button-down denim shirt with sleeves rolled up, Armani cream chinos, and a flak jacket from the Halo Trust, a charity that has been working to clear mines in Angola since 1994, during the country's ongoing civil war. This powerful moment is constantly etched in our minds, one that has become synonymous with her work as a humanitarian, campaigning against landmines.

In 2019, Prince Harry recreated his late mother, Princess Diana's 1997 walk through an active minefield to raise awareness about the issue and help establish an international ban on landmines.

Princess Diana is not known as the "people's Princess" for nothing. She was a true trendsetter of her era, leaving her mark on every statement piece she wore. 20 years have passed since her tragic death, her signature sartorial flair lives on in the people's hearts. Nobody knows what the princess could have done for the world if her life hadn't been cut short, but her legacy lives on.

Which Lady Di's outfit is your favourite? Share your thoughts in the comments section below.

​